Björn Bartholdy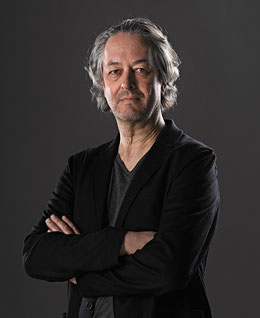 Björn Bartholdy studied communication design (diploma) at the Merz Akademie in Stuttgart and media design (diploma) at the Academy of Media Arts in Cologne. He also worked as a freelance designer for Bayerischer Rundfunk, RTL, VOX and VIVA.
In 1994 he founded cutup (with Robert Rose and Kris Krois), a media design agency, and was its creative director and business manager until 2002. The agency won many national and international prizes in the categories of film and TV design as well as interactive media. In 1999 the majority of the agency was taken over by Bertelsmann.
Björn Bartholdy ran the virtual design department at the Baden-Württemberg Film Academy in Ludwigsburg from 1999-2002. From 2002 to mid-2004, he led the content strategy department at very.tv in Cologne. Between 2003 and 2014 he has been responsible for the teaching area of audiovisual design at the Köln International School of Design - KISD - (Cologne University of Applied Sciences) and from 2006 to 2012 he was the course convener of the Bachelor and Master in European Design (MEDES). Björn Bartholdy is a long-standing member of the Eyes and Ears of Europe, the European association for design, promotion and marketing of audiovisual media.
He has published three books: SHOWREEL. 01 and .02 on audiovisual design and "Broadcast Design", an account of current TV design. He has also contributed various articles to the Design Dictionary (Birkhäuser) Magazines and other Publications.
In 2006 he started the initiative to found the Cologne Game Lab (faculty for Cultural Sciences, TH Köln - University for Applied Sciences), where he is a professor for Media Design since 2014. He co-directs the institute together with Prof. Dr. Gundolf S. Freyermuth and is Vice-Dean of the Faculty of Culural Sciences.