Cologne Game Lab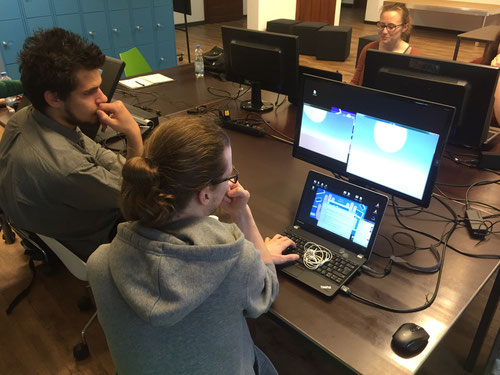 Research + Development
We started our research work at CGL in late 2009 with a research project called "Mobile Gaming Middleware" in cooperation with the Cologne game developer Rock A Byte.
The result of the project is a design sketch for a serious game called "Colonia Mysteria".
Since 2011 we collaborate with Cologne Game shop Nurogames in a EFRE funded (50% EU / 50% NRW) research on pervasive and augmented games. Here we develop an easy to use middleware, that enables "normal" people to construct game content... (the runtime of this project is 2 years)
Professional Training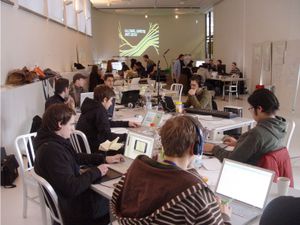 In the field of professional training we do all kind of workshops, public and closed events for different target groups. This reaches from the Global Game Jam in which we participated 2010 and 11 to trainings like the Game Competence Workshop we just did for 30 Chinese Colleagues from Huangzhou.
BA Digital Games
Since WT 2014 we offer a 7 semester BA programm. The first two semesters come with a generalistic approach, while the students choose one of the three specializations (Game Design/Game Arts/Game Informatics) from the 3rd term on. The course includes a mobility window in the 5th semester and is taught in Eglish.

Master in Game Development and Research
The MA program started fall 2010 with a first group of students. We concentrate on the junction of art and science within this program, following more an art academy model then going the technical track. The course goes 2 years and ends for the students with the grade "Master of Arts - in Game Development and Research". For detailed information please check the CGL Website!
MA Digital Games
A second Master program will start in 2018. It will be a "real" master class (3 semester) again with the 3 spezialization areas plus the option to go for game studies...



Köln International School of Design
Since 2003 i am responsible for the teaching field of Audiovisual Design at Köln International School of Design (KISD) - the design institute at Cologne University of Applied Arts. The special "Kölner Modell" (Cologne Model) which is based on a generalist design education, meaning no specialization in specific areas of design.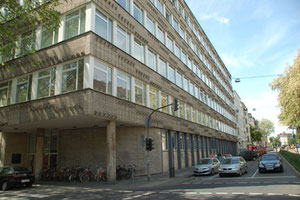 In the field of Audiovisual Design i include all aspects of animation (analog and digital), design for film and television as well as nonlinear forms - also touching areas like interface design, game design or scientific visualization. 
At KISD we offer a BA program called "Integrated Design", a research oriented MA in Integrated Design, as well as the MEDes Programm - a konsecutive BA/MA course which i am responsible for as a Program Head.


VERY
After getting out of cutup and the Bertelsmann universe, i started a new venture with my former new business developer Michael Wurzer. We called the new baby VERY and decided to concentrate on the fusion of content and marketing.

This was 2002 and still quite early for rich media over the internet. We have been doing business with Deutsche Telecom, Koch Universal, German United Distributors, RTL Deutschland and many others... It went quite well, but in 2003 the call to be a professor at KISD came and i decided to leave the company in 2004.


CUTUP
1993/94 i founded cutup together with Robert Rose (he is now professor for time based media at Augsburg University of Applied Sciences, Germany) and Kris Krois (Kris is now Professor for Visual Communication at the University of Bolzano, Italy) as an agency for motion design in Cologne, Germany. Being early adopters of desktop video and animation, we managed to establish the agency as one of the leading shops for audiovisual design and technical innovation in this area in Germany.
Just a view Stills out of many projects...
One field that we got involved in very early was all kind of realtime animation. Virtual Studios and Characters were our speciality. The company ws sold to BERTELSMANN in 1999 and became part of EMPOLIS, an BERTELSMANN ARVARTO company. I left the company in 2002.
TV Scape was an experimental project that we did in 1996 during IBC Amsterdam. In collaboration with GMD and Telekom we realized a virtual studio with off location rendering in Bonn - the studio images were transfered via ATM back to Amsterdam. Beside this we developed a Shockwave application that made it possible to interact with the studios objects via web - an early vision of interactive television...